"Bringing Japanese Value
to the World"
We are a game changer in "cars" and "food,"
and we aim to be a matchmaker.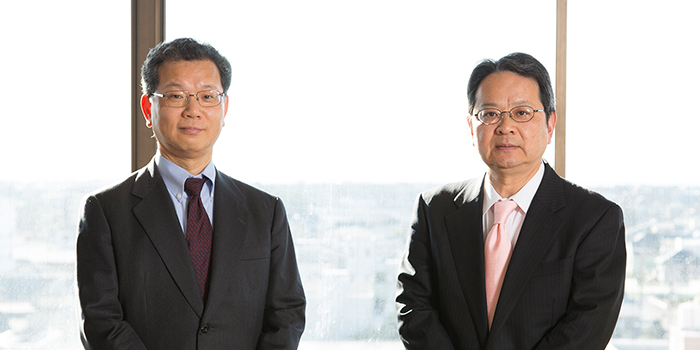 President and CEO Ryozo Arai
Chairman and Representative Director Juichi Arai
 Since its establishment, the Arai Group has grown around businesses related to "cars" and "food" that are indispensable to people's lives. We have always cultivated new businesses and been engaged in various businesses in tune with changing times.
In 1920, a wholesale business dealing in food such as rice grains was established
In 1961, Toyota Publica Hiratsuka (later Corolla Shonan) was established
In 1964, a comprehensive food market was established that realized Japan's first one-stop wholesale shopping facility for food with three fresh products
In 1976, the food supermarket business and Brazil business began
In 1978, Oiso Set Net Fishery was established
In 1980, the exclusive import and sale of "Guarana" (Brazil's most popular soft drink) began in Japan
In 1984, the US business was set up
In 1987, a computer-controlled used car auction site was opened
In 1995, the only set-net fishery on the Portuguese coast began operations
In 2003, the used car truck auction site became number one in the world
In 2014, the agricultural production business started
In 2015, construction equipment auction started
In 2018, the manufacturing plant of mineral water at Zao began operations
In 2020, the import and sales of Korean foods and stuffs through Ongane group started
 Currently, our main businesses and products are incredibly diverse, including the auction department dealing in used cars, motorcycles,commercial vehicles such as trucks, construction industry machinery, and agricultural machinery. In the food distribution sector, we carry out agricultural production, collection, processing, and sales; operate a wholesale flower business; process plant management; engage in wholesale and retail trade of specialty foods; run community-based food supermarkets; import and sell foods from Europe, South America, and Southeast Asia; sell equipment and products that can mature the fresh food and preserve the freshness of them.
In the game department, we operate pachinko halls.
We are also actively expanding our businesses globally as evident from set net fishing and livestock farming in southern Portugal, hotel management, real estate, and trading in Sao Paulo, Brazil, etc.
 For the next 100 years, we will continue to focus on the fields of "cars" and "food," which are stable businesses with infinite possibilities.
For "cars," we have expanded our dealings from used vehicles to include various secondhand products used in Japan.
For "food," we are a game changer and handle fresh foods and specialty products from all over Japan, and we aim to be a major platform.
We will also work in the fields of health and beauty. Furthermore, by utilizing DX, we will take on the challenge of "information brokerage," which is a business model completely different from existing businesses.
Specifically, "cars" will be B2B and "food" will connect the global needs of B2B & C through local needs as we aim to be a great matchmaker.
To achieve all these goals, the company welcomes challenges from employees and accepts their failures.
We will foster a work environment where employees can act positively without fear of failure.

 Please look forward to the Arai Group, which is celebrating its 102nd anniversary and continues to take on the challenge of new businesses based on the trust that it has accumulated over many years.